In light of the first reported coronavirus disease (COVID-19) case in North Carolina, I want to take a moment to update you on the steps we are taking to protect North Carolinians.
The health and well-being of every North Carolinian is my top priority and I am in close communication with federal and state leaders.
I've been working to make sure that Congress provides billions of dollars in funding to combat the coronavirus, and I am proud we were able to come together on a bipartisan basis to provide the resources needed for a comprehensive response.
Under the direction of President Trump, the United States has taken critical measures to assist with domestic containment efforts and I am working hard to make sure the administration is doing everything they can to ensure the health and safety of every North Carolinian.
I will continue supporting our state's medical institutions, universities, and health care systems, which are some of the best in the world and have a proven track record in treating infectious diseases.
This week, I sent a letter to Vice President Pence on efforts to contain the spread of coronavirus and the need for Congress to keep politics out of our nation's prevention and response efforts.

This follows a letter I sent to Secretary of Defense Mark Esper regarding the threat of coronavirus to our servicemembers and military families worldwide.
The most important thing you can do is stay calm and take safety precautions. Follow the Centers for Disease Control and Preventions (CDC) guidelines to protect the health of you and your family.
The CDC has issued travel health notices for countries with COVID-19 transmission. North Carolinians should be aware of the CDC's latest geographic risk assessment for COVID-19 transmission before traveling, and should avoid nonessential travel to areas under a travel health warning.
Visit the North Carolina Department of Health and Human Services (NCDHHS) and the CDC for the most up-to-date list of travel health notices.
For more information, call the toll free NC COVID-19 Helpline at 1-866-462-3821 or visit the CDC.Gov orNCDHHS.Gov.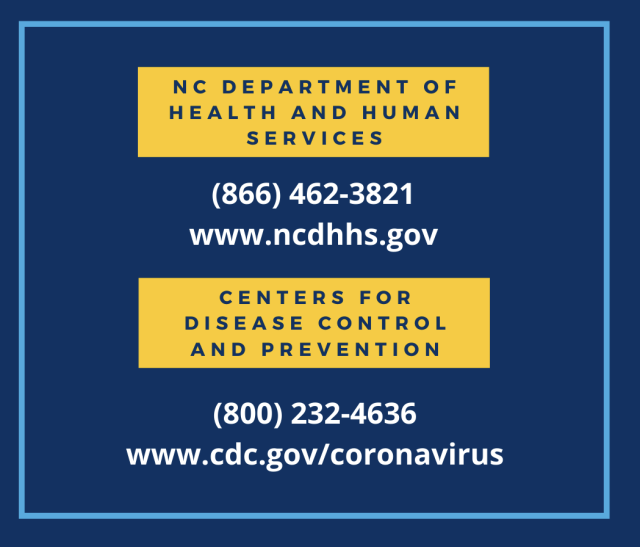 If you think you may be experiencing symptoms, call your health care provider or local public health department. You can find your appropriate POC here.
Thank you for reading my e-newsletter. I will continue to monitor the situation closely and provide you with the latest updates.