Our nation has faced major crises before and we have always come together to confront and overcome them. In responding to the coronavirus pandemic, I will keep working across the aisle to push for solutions to protect the physical and economic health of North Carolina families. My priority is to provide all the resources you need to stay informed. If you have questions, I invite you to take a look at a list of some of the most frequently asked questions my office has received over the last several weeks, and of course please don't hesitate to call my office.
Additionally, NC 2-1-1 is now a resource for people to call for assistance related to the COVID-19 coronavirus. NC 2-1-1 operates 24 hours a day, 7 days a week. You should only call 9-1-1 if you are experiencing an emergency.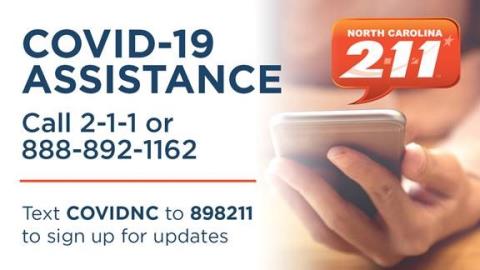 If you think you may be experiencing symptoms, call your health care provider or local public health department. Please do NOT go to a health care provider without calling them first in order to limit possible exposure to our hardworking medical professionals. You can find your appropriate POC here. For more information, call the toll free NC COVID-19 Helpline at 1-866-462-3821 or visit the CDC.Gov or NCDHHS.Gov.
On Wednesday, I voted in favor of the Families First Coronavirus Response Act, legislation that ensures free coronavirus testing, establishes an emergency paid leave program, increases unemployment benefits, and provides food aid during the COVID-19 outbreak.
I have worked to keep North Carolinians informed on the federal response to combat coronavirus because the health and safety of North Carolinians is my top priority, which includes making sure our state is prepared and ready to respond. I wanted to provide you an update on some of the things I have been working on:
I will continue working with our local and state leaders to ensure North Carolina is prepared and ready to respond to protect the health of North Carolinians.
Thank you for reading, and as always please reach out to my office if you have any questions or need help with a federal agency.