LEXINGTON, N.C. – Yesterday, U.S. Senator Thom Tillis (R-NC) and U.S. Representative Ted Budd (R-NC) hosted a roundtable with North Carolina State Senators and Representatives, including Speaker Tim Moore, and local Sheriffs to highlight the need for commonsense legislation at the state and federal level to stop reckless sanctuary city policies that allow criminal illegal immigrants to harm our communities.
Last year, Senator Tillis reintroduced the Justice for Victims of Sanctuary Cities Act, legislation that holds sanctuary jurisdictions accountable for failing to comply with lawful detainer and release notification requests made by federal authorities and jeopardizing public safety and theImmigration Detainer Enforcement Act, legislation that will help stop sanctuary cities.
After the roundtable, Senator Tillis and Representative Buddsent a letter to Department of Homeland Security (DHS) Secretary Alejandro Mayorkas seeking more information on the death of Wake County Deputy Sheriff Ned Byrd, who was killed in the line of duty on August 11. Five days later, brothers Arturo Marin-Sotelo and Alder Alfonso Marin-Sotelo were taken into custody and charged with first-degree murder in the brutal death of Deputy Byrd. On August 24, their brother, Rolando Marin-Sotelo, was charged with a firearm crime.
Read the full letter here.
Tillis, Budd question Biden administration on legal status of suspects in Wake deputy's killing
Two Republicans on Capitol Hill requested information from federal immigration officials on Wednesday about the two men charged with killing a Wake County sheriff's deputy this month.
Sen. Thom Tillis and Rep. Ted Budd, who is running for an open Senate seat this November, said they had requested the Department of Homeland Security provide all "alien files and all relevant and pertinent information" for Alder Alfonso Marin Sotelo, 25, and Arturo Marin Sotelo, 29, both of whom were indicted and charged with murder after Deputy Ned Byrd was found shot multiple times on Aug. 12.
Read the full story here.
Budd, angling for conservative NC voters in Senate race, calls for tighter immigration enforcement
U.S. Rep. Ted Budd is calling for tighter enforcement of immigration laws and withholding federal funding for law enforcement agencies that refuse to cooperate with U.S. Immigration and Customs Enforcement—a stance aimed at conservative voters as the Republican campaigns for North Carolina's up-for-grabs U.S. Senate seat.
Joined by U.S. Sen. Thom Tillis, local sheriffs and immigration officials at the Davidson County Sheriff's Office in Lexington on Wednesday, Budd urged voters to seriously consider immigration enforcement as they decide whether to support him or his Democratic opponent, Cheri Beasley, a former state Supreme Court chief justice.
… He and Tillis sought to emphasize that view by highlighting a joint letter they signed calling on the Department of Homeland Security to look into the immigration status of two brothers charged with murder in the recent killing of Wake County Deputy Ned Byrd.
Read the full story here.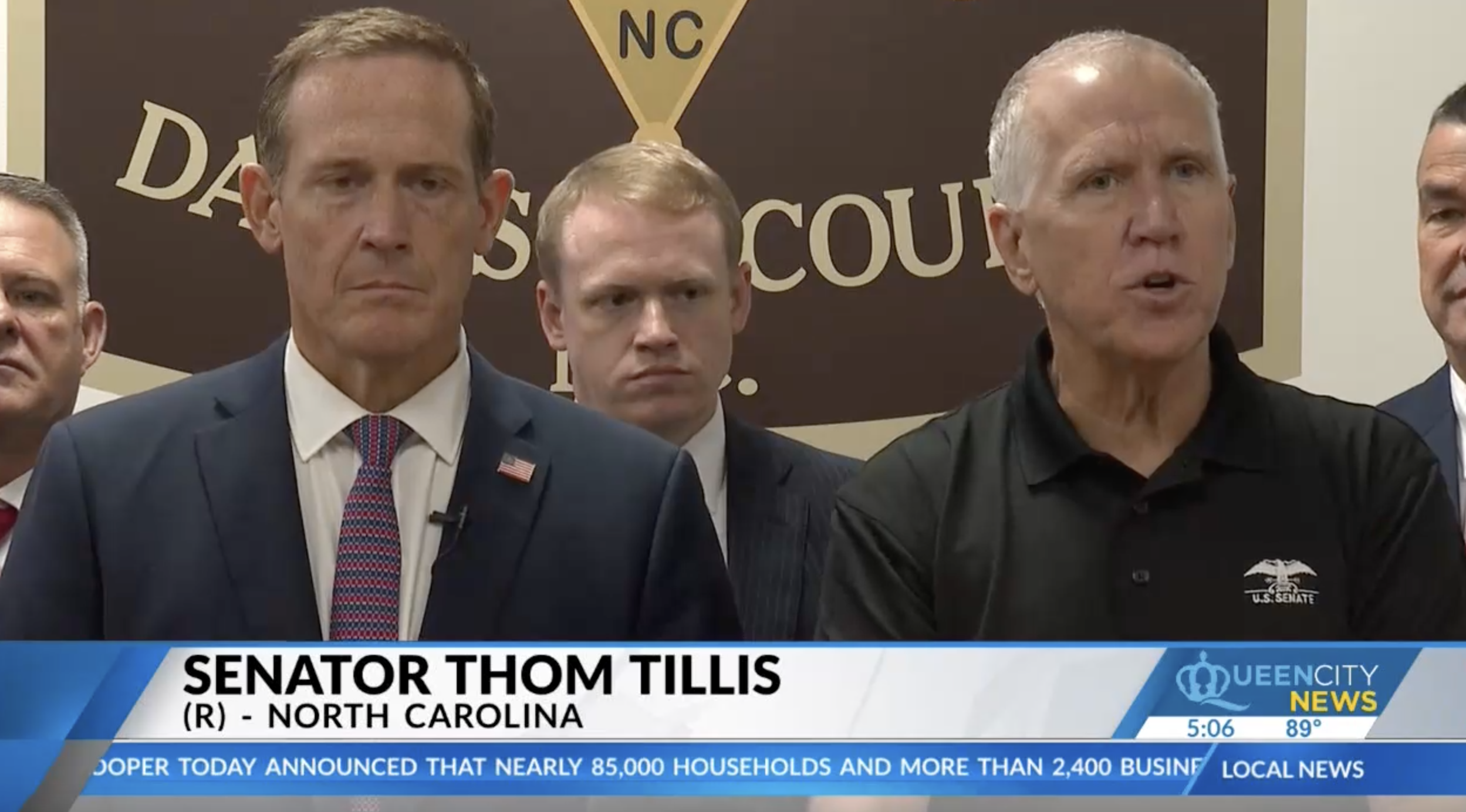 ###