Senate Unanimously Passes Bipartisan Measure Recognizing Benefits to Nation's Youth, Promise of New Initiative

WASHINGTON, DC – Senator Thom Tillis (R-NC) recently cosponsored a Senate resolution to recognize the immeasurable benefits of the national 4-H program for young people and its newly-launched "Grow True Leaders" campaign. The Senate unanimously passed the resolution yesterday.
"I am happy the Senate came together to recognize the more than 10,000 4-H programs in North Carolina and the 7 million 4-H participants across the nation," said Senator Tillis. "As the largest youth organization in the United States, 4-H plays a profound role in developing the leadership and public speaking skills of younger generations of Americans."
Last week, Senator Tillis spoke at the National 4-H Council Congressional Breakfast in Washington, D.C. and met with attendees visiting from North Carolina. The 4-H movement supports young people through programs designed to shape future leaders and innovators, particularly in rural communities.
The resolution was introduced by Senators Roger Wicker (R-MS) and Heidi Heitkamp (D-ND). In addition to Senator Tillis, the other cosponsors include Senators Lamar Alexander (R-TN), Tammy Baldwin (D-WI), John Barrasso (R-WY), Roy Blunt (R-MO), John Boozman (R-AR), Sherrod Brown (D-OH), Shelley Moore Capito (R-WV), Bob Casey (D-PA), Bill Cassidy (R-LA), Thad Cochran (R-MS), Chris Coons (D-DE), John Cornyn (R-TX), Mike Crapo (R-ID), Steve Daines (R-MT), Joe Donnelly (D-IN), Mike Enzi (R-WY), Joni Ernst (R-IA), Cory Gardner (R-CO), James Inhofe (R-OK), Johnny Isakson (R-GA), Mark Kirk (R-IL), Angus King (I-ME), Jeff Merkley (R-OR), John McCain (R-AZ), Jerry Moran (R-KS), Lisa Murkowski (R-AK), Gary Peters (D-MI), Pat Roberts (R-KS), Debbie Stabenow (D-MI), Tom Udall (D-NM), and David Vitter (R-LA).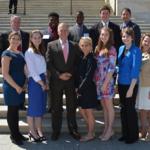 ###