WASHINGTON, D.C. – Today, Senator Thom Tillis (R-NC), a member of the Senate Committee on Agriculture, Nutrition, and Forestry, spoke on the Senate floor in support of a bipartisan proposal to protect the use of agriculture biotechnology and ensure that American consumers have access to vital food information, including whether or not the food is a biotechnology product.
WATCH SENATOR TILLIS' FLOOR SPEECH HERE.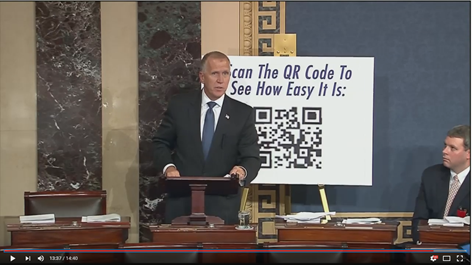 "What this bill does is avoid the confusion when a state implements a law that becomes de-facto federal law of the land and increases the cost of prices to consumers," said Senator Tillis. "I don't want the people of North Carolina to pay $1,100 for the same food they bought last year because of these state mandated labeling requirements."
"This is an opportunity to get something done that makes sense, that removes the threat of raising food costs while not producing one iota increase in health outcomes. I hope that my friends on both sides of the aisle recognize this is an opportunity where we can prove to the people of this nation we can actually get things done," said Senator Tillis. "This is a compromise. This is something that my friends on the right do not necessarily like and some of my friends on the left don't like, but it's right. And it's necessary now so that we can protect the people who don't know if this bill doesn't get passed, they're going to be paying more food for no more value."
The bipartisan legislation prohibits states from mandating labels on food that is genetically engineered. Mandates like the recent Vermont labeling law effectively serve as regulation on all other states, significantly increasing food prices for American families. The Senate legislation would also establish a national disclosure standard for food that may be bioengineered, and requires mandatory disclosure with several options, including text on a package or a link to a website (including a QR code).
###