WASHINGTON, D.C. - Today, Senator Thom Tillis' office released a new video highlighting Tillis' work with President Donald Trump, VA Secretary Robert Wilkie and his colleagues to deliver results for North Carolina veterans, including landmark reforms to improve health care for veterans, expanding career and educational opportunities for veterans, and pursuing justice for the victims of toxic water contamination at Camp Lejeune.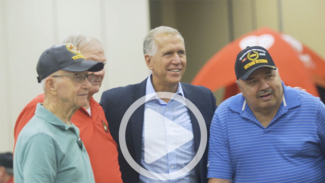 TILLIS: "Most veterans like going to VA facilities for care, but if they can't get the service in the time they need it, then they need to have the option to go into the private community to get the health care they deserve. The MISSION Act is really making sure veterans get the care they need in the time they want it, in the place they want it."
Senator Tillis has used his position on the Senate Veterans' Affairs Committee to advocate on behalf of veterans, leading efforts to reform the VA to deliver more timely, quality, and accessible health care for veterans. Working with President Trump, Senator Tillis helped lead the passage of the MISSION Act, landmark legislation that puts health care decisions back in the hands of veterans. Tillis has also worked across the aisle assist veterans exposed to toxic burn pits while serving in Iraq and Afghanistan, leading the successful passage of the Helping Veterans Exposed to Burn Pits Act, which was codified into law by President Trump in 2018.
TILLIS: "We need to help veterans find jobs and encourage employers to hire a veteran."
Senator Tillis has also delivered results to fulfill the promises made to veterans to provide them access to quality educational and career opportunities upon the completion of their service and transition back to civilian life. Tillis' legislation that has been codified into law includes:
The Veterans Education Priority Enrollment Act, which ensures veterans, servicemembers, and surviving spouses and children of servicemembers who have died in the line of duty can take full advantage of their education benefits.
The Veteran Apprenticeship and Labor Opportunity Reform (VALOR) Act, which increases access to apprenticeship-training programs for veterans by streamlining the certification process for non-federal apprenticeship programs based in more than one state.
The Career-Ready Student Veterans Act, which makes it easier for veterans to have access to educational programs that are approved for VA educational benefits.
The Veterans Education Experience Improvement Act, which improves veterans' experience when using GI Bill education benefits and provides resources and training for the officials at educational institutions who serve student veterans, helping them achieve positive educational outcomes.
The Veterans Education Relief and Reinstatement Act, which reinstates lost benefits to veterans whose Post-9/11 GI Bill education benefits are affected by the permanent closure of certain educational institutions.
###