WASHINGTON, D.C. – Today, Senators Richard Burr (R-NC) and Thom Tillis (R-NC) voted to confirm Professor Richard E. Myers to serve as a U.S. District Judge for Eastern North Carolina. Professor Myers was confirmed by the Senate on a strong bipartisan vote of 68-21.
"Professor Myers is well-qualified, widely respected, and an excellent choice for the Eastern District of North Carolina," said Senator Burr. "I am grateful that even after so many years of public service, in roles as an Assistant U.S. Attorney and now a distinguished educator, Professor Myers is still answering the call to service today. I was pleased to support his nomination, and to see the Senate confirm a brilliant legal scholar to the bench."
"I want to congratulate Richard Myers on his confirmation as the Eastern District Judge of North Carolina," said Senator Tillis. "His extensive experience is the reason President Trump nominated him to fill the vacancy and I have no doubt he will serve the people of Eastern North Carolina well. I am proud I was able to support his nomination out of the Judiciary Committee and I applaud my colleagues for confirming this well-qualified nominee."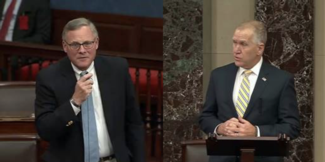 Sens. Burr and Tillis speak on the Senate floor ahead of Professor Myers' confirmation vote today.
Ahead of the Senate's confirmation vote, Senators Burr and Tillis both spoke on the Senate floor in support of Professor Myers' nomination.
Senator Burr introduced Professor Myers at his confirmation hearing before the Senate Judiciary Committee on September 11, 2019.
At the recommendation of Senators Burr and Tillis, President Trump nominated Professor Myers on August 14, 2019.
###